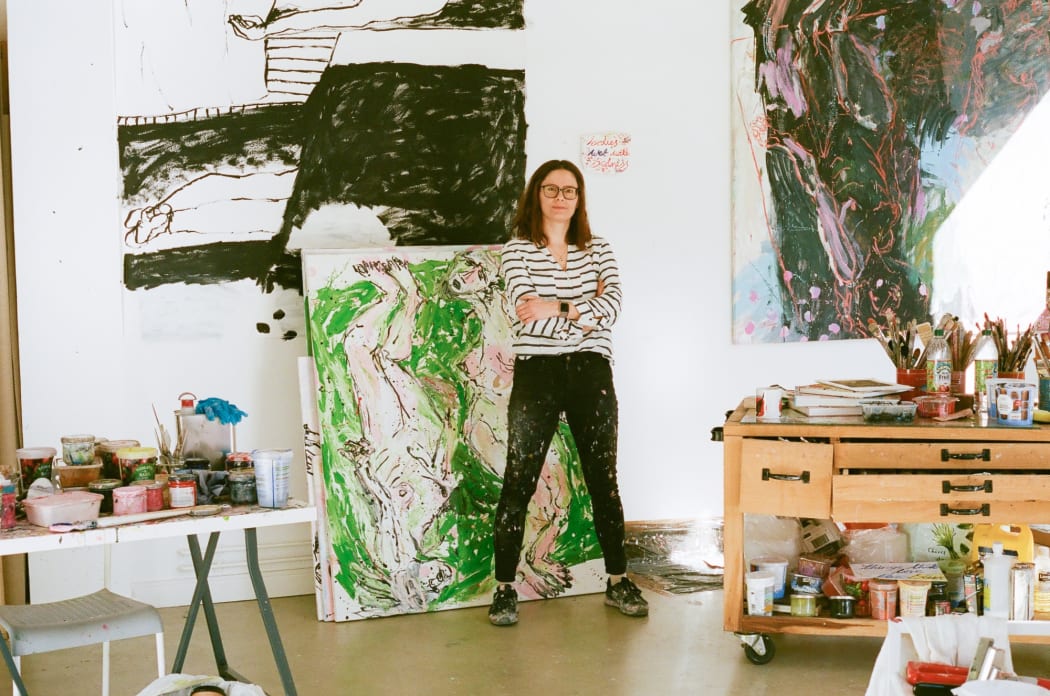 Jacob Barnes: Let's start with your own background as an artist. What's driven you to your practice?
Kim Booker: I came to art a bit later in life, mainly because I was from quite a working class background and I needed to be able to support myself financially, but art was my passion. I studied it up to A level, and then I did a law degree and went down that path. However, I always maintained an interest in art, going to exhibitions, drawing classes, and things like that. After a while, the pull became too strong, and after getting to a stage where I was a bit more comfortable financially, I had the opportunity to go to art school. I did a foundation at the Art Academy, where I'd been going to evening classes, and then my BA was at City and Guilds; I graduated in 2019.
JB: How would you describe your own practice and what would you think of as its core tenants?
KB: My love has always been figuration, but it's really more about the human experience. My own life experience is probably the driving force of the work; I never really found a way of communicating what I wanted to say with abstraction. There's always been an element of drawing: not necessarily a body, but drawing things around me, or the body as a representation of an existential state or mindset, or just as a physical presence in the world. My practice is very process-led. My paintings aren't planned and I work intuitively, almost being led by the paint itself. It's always a negotiation between the drawn image and its erasure. I do a lot of drawing and scrubbing out and that kind of builds the image.
JB: Who would you think of as your major influences and what kind of artistic lineage do you see yourself in?
KB: I would say I fall partly into the German Expressionist tradition, but I also have a grounding in the kind of idiosyncratic British painting which has emerged since the 1950s. Oxlade, Auerbach, Kossoff, Rose Wylie, Gillian Ayres, Roger Hilton, Patrick Heron… I've read a lot of Oxlade's writings about drawing and painting, and have been influenced by his ideas – like the resistance against anything that's preconceived or anything that's illustrational, and his thinking about painting as a kind of voyage. I started with quite an academic style of drawing; I can actually draw pretty accurately, but Oxlade said that the more accurate a drawing is the more dead it looks, and that's how I feel as well. There can be a sensitivity to accurate drawings, but usually they need something more to feel authentic to me.
JB: Are those associations or influences something yougrew into as your practice expanded or were they ideas you already had going into formal education?
KB: I didn't really start reading art philosophy or critical theory until I started my BA. I was pretty angsty at first; I did a lot of collage and more overtly feminist work, but some elements have remained since the beginning. An Allegory with Venus and Cupid by Bronzino, for example, has been an ongoing reference point.In our first year at City and Guilds, we had to go to the National Gallery and choose a painting and then make a giant enlargement of it in charcoal, over two metres high. I chose Bronzino's Allegory. I still use parts of it in some of my paintings, like these heads that I draw sometimes. Though they're not the same as the figure in the Bronzino – they've been internalised and recreated as something that's mine. My BA was really a process of ruling things out, to get to the work I wanted to make. I even went through a minimalist phase when I questioned why I was painting, but then at the end of the second year, I realised no, I need to paint. What I was left with after three years, I think, was almost what I started with, but I had to go through that process to confirm to myself what I was doing and to understand why I was doing it.
JB: Do you do you see yourself in conversation with any contemporaries?
KB: There are a few painters whose work I follow and who I find really interesting because they are constantly inventing and pushing forward. Painters like Danny Romeril, Luke Hannam, Sophie Barber, Max Wade. I wouldn't necessarily say I was in conversation with them, but I think there are crossovers in our approaches to painting. I am at the same studios as Coco Morris, who also studied at City and Guilds. We've been through art school and grown together, so we talk a lot about painting, what it means now, what it's doing, how we relate and fit in. I think it's quite difficult to have a circle nowadays, as everybody's practice is so individualised. Adébayo Bolaji is also at our Croydon studios –he's another person that enjoy discussing painting with.
JB: If you were to consider the way that the London art world is existing and changing, what would you identify as its strong suits, as well as its shortcomings?
KB: Strong suits would be the number of galleries, project spaces, and alternative spaces. The amount of people that are putting a lot of energy into getting artists out there is surprising. A lot of people want to help. I think that's a real strength. I thought maybe the art world would be harder to break into – and it is in some ways – but people are open, friendly and engaged. As for shortcomings, you read all these histories of people like Freud and Auerbach and Bacon hanging out at The Colony Club, or the YBAs, or the Abstract Expressionists in New York, and they all seemed to have worked and lived in close proximity, and there was a sense of being in a particular place and time in history, which is an experience I yearn for as an artist that I don't think you can get in London anymore. But perhaps that only ever comes with hindsight and a good biographer…
JB: What are the primary themes that you're considering at the moment and what direction do you see your practice going in?
KB: For the first year after graduating art school, I felt a lot of pressure to produce paintings of a certain style, to become a brand, get a gallery and to do the things that you see people doing. I found that really difficult because I wanted complete freedom in painting, and I wasn't done learning or trying new approaches. It took at least a year to get over this, maybe I'm still not entirely over these hangups! But I've realised lately that I'm focused much more on the experience and the process of painting, rather than painting as a product or as an outcome. I've allowed myself to just embrace that, which has given me a lot more freedom. Of course I remain incredibly ambitious for my work, but I am learning to allow the commercial side to take as much time as it needs.

I have paintings with bits of the human body drawn in a loosely representational way, but then I also have this other figure that's come in, which is like this lumpy, self-portrait figure that lies at the bottom of some of my canvases, with Bronzino heads or other things coming out of its imagination. I was thinking about where that came from and I thought maybe it's my version of The Rokeby Venus. I have the postcard on my studio wall. Though mine is more like an anti-Venus. I was really conflicted as to whether I was allowed to do more than classical drawing, to include weird things in the paintings, but then I realised I can just put anything in. That's kind of where I am at the moment!